Description
MailCase in Stainless Steel
The stainless steel MailCase offers unmatched protection against rust in corrosive environments. This includes coastal environments as well as harsh winter climates where roads are salted.
The brushed finish on the stainless MailCass carries an exclusive, stunning look in front of your home or business.
You may have noticed that the MailCase is also available in powder coated zinc-alloy steel.  Sometimes customers ask us what the difference is between stainless steel and zinc alloy steel.
The main differences between our zinc alloy mailboxes and our stainless steel mailboxes are the composition of the metal, and the fact that our zinc-alloy mailboxes are powder coated and our stainless steel mailboxes are unpainted with a brushed finish.  Otherwise the mailboxes are identical. They are the same size, use the same gauge steel, have the same features and have the same level of security.
Zinc alloy steel has zinc and aluminum added to the steel.  MailCase mailboxes made with zinc alloy steel are powder coated and are available in different colors.
Stainless steel does not contain zinc, but instead contains chromium and nickel.  This gives stainless steel unique properties:
Stainless steel can be used in highly corrosive environments (where there is lots of salt in the air or on the roads).

It does not need to be painted.  Unpainted stainless has an exclusive, stylish look.  

It has high hardness and strength.  This makes it strong but difficult to fabricate.

It is non magnetic.
While our powder coated zinc-alloy steel mailboxes have excellent rust resistance, some people live in places where there are high levels of corrosion.  This includes places where there is a lot of salt in the air (i.e. close to the ocean) or places where there is a lot of salt on the roads (busy streets in winter climates).  These customers will need an even higher level of rust protection than zinc-alloy steel. These customers will need stainless steel.
Stainless steel is more expensive for several reasons.  First, chromium and nickel are expensive metals, and stainless steel contains a lot of both metals.  Second, since stainless has high hardness, it is difficult to fabricate.  Our factory requires a 45 ton press to stamp stainless steel parts. Finally, the surface of the mailbox has a brushed finish.  It is labor intensive to put the brushed finish on the MailCase, but the result has a stunning look.
There are typically 2 types of customers who buy a stainless steel MailCase:
Customers who live in a highly corrosive environment.

Customers who want the exclusive look of brushed stainless steel.
We recommend cleaning your stainless steel MailCase ever year or two with a product called Barkeepers Friend, which can be found in most supermarkets in the household cleaning aisle.  Even though stainless steel will not corrode, in some climates stainless steel can have surface discoloration.  Barkeepers Friend will remove any surface discoloration and keep your stainless MailCase looking great for years.
High Security Pry Shield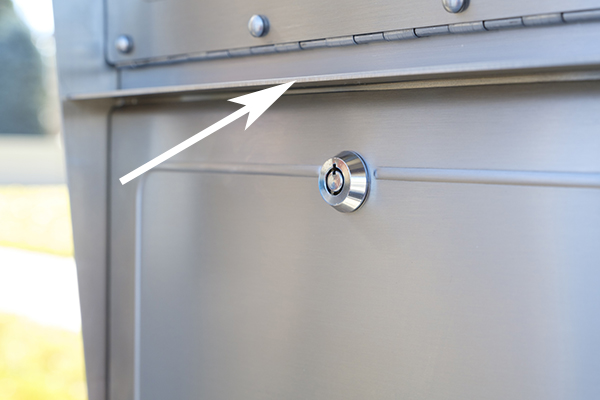 The primary way criminals attack locking mailboxes is through a pry attack on the lower door.
To protect against pry attacks the stainless steel MailCase uses the Pry Shield, which is a ledge covering the top edge of the bottom door. When most criminals see the Pry Shield they leave your mailbox alone and move on to an easier target.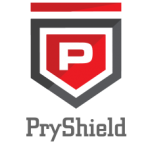 Extra Thick Latch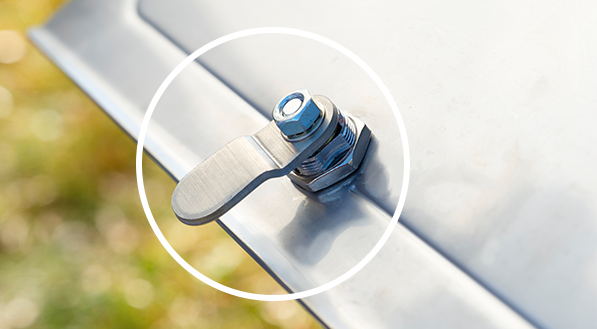 Most locking mailboxes sold by our competitors or available in big box stores have a weak latch.  During a pry attack the latch simply folds over and the lower door falls open.
MailCase uses an extra thick latch made of tough stainless steel to provide strong resistance to pry attacks.  
Tubular Lock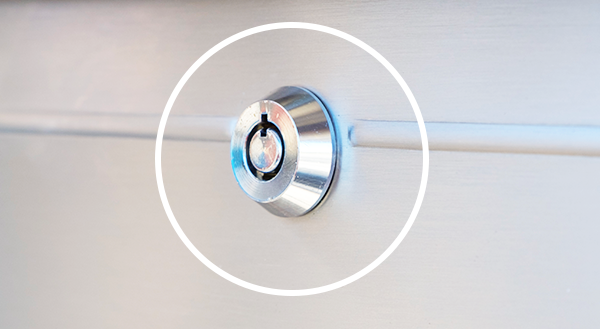 The stainless steel MailCase uses a tubular lock. This is is the same lock used on vending machines. Tubular locks protect against picking and drilling of the lock.
All MailCase mailboxes are keyed differently.
The stainless steel MailCase comes with three keys. We don't make the locks and keys ourselves, we get them made by our lock supplier who specializes in tubular locks.
We don't keep copies of your keys in our shop. Since we don't make the locks and keys ourselves we are unable to provide you with more than 3 keys.
If you need more than 3 keys most good locksmiths have a round key duplicating machine and can make duplicates for you.
Welded Solid Rivets on Doors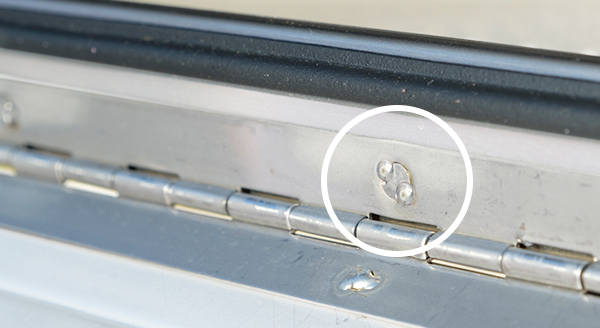 The doors on the stainless steel MailCase are attached using solid rivets that are reinforced by welds. Most other mailboxes use hollow rivets which pop off easily during a pry attack.
Protection from Fishing Attacks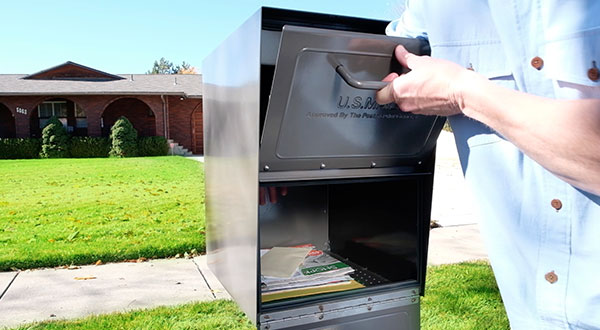 The MailCase has a delivery tray welded to the inside of the top door. The shape of the delivery tray makes it difficult for criminals to reach inside the mailbox.
Additionally the MailCase is 20" tall. This height, combined with the shape and configuration of the delivery tray makes fishing attacks on the MailCase extremely difficult.
MailCase Package Delivery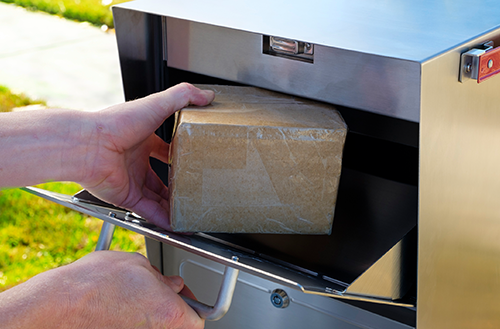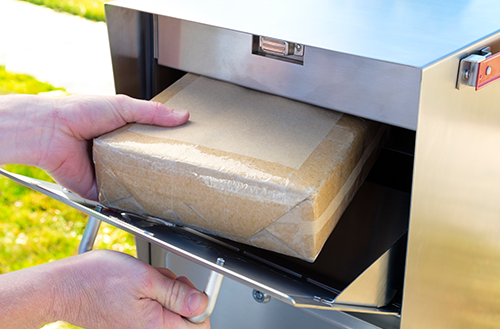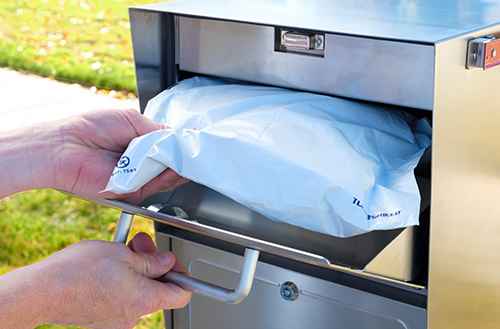 The MailCase takes packages using the delivery tray.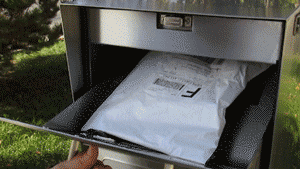 The size of package that can fit in the stainless MailCase depends on if it is a soft package or a rigid package.  If it is a soft package then the MailCase can take a fairly large soft package, or multiple soft packages at the same time.
If it is a rigid package then the size that can fit depends on the thickness of the package. If the package is too thick then it will not fit.  The following are examples of package sizes that can fit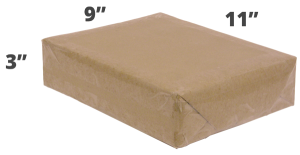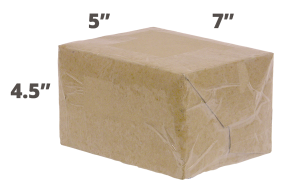 The easiest way to describe it is to say that something the size of a large phone book would fit, but something the size of a shoe box would not fit. For additional information about package delivery visit our FAQ page under the "PRODUCT" heading.
MailCase Patented Dual Delivery System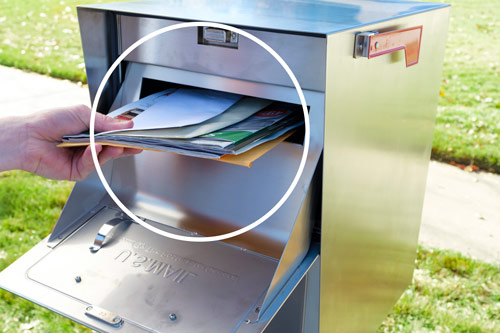 The MailCase has the delivery tray which takes packages. In the floor of the delivery tray is a narrow slot.  Your mail carrier will put packages in the mailbox using the delivery tray. The rest of your mail your carrier will put through the narrow slot.  This makes life easier for your mail carrier since they can put everyday mail through the narrow slot using one hand while seated in their mail truck.
Large Capacity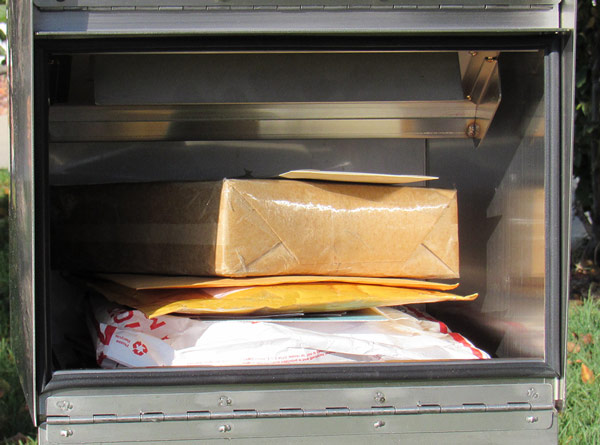 The large capacity of the stainless steel MailCase allows it to hold several days of mail.
The MailCase only has a front access door available. One of the main expenses of building a locking mailbox is building and securing the lower access door. By adding a rear access door it would increase the cost of the MailCase. We don't have very many customers who need a rear access option so to keep the MailCase affordable for everybody we don't have a rear access door option available.  
Heavy Gauge Welded Steel Construction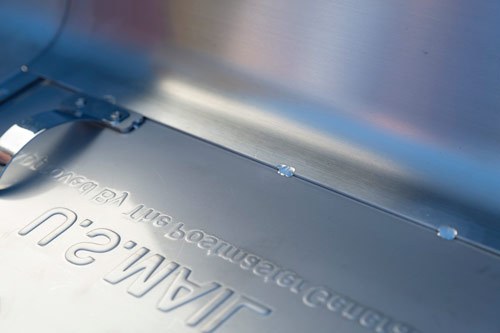 The delivery tray, top, side, and rear panels of the MailCase are made using 14 gauge steel.  The two front doors and the bottom panel are made using 12 gauge steel.
Outgoing Mail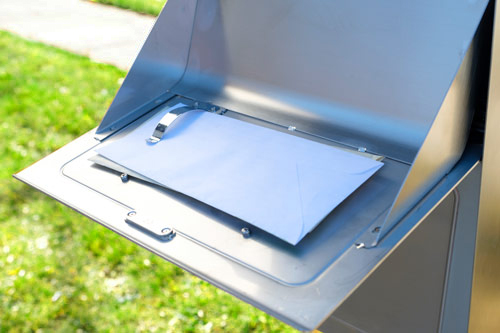 Outgoing mail goes in a metal clip located on the inside of the top door. When your carrier opens your top door to deliver your mail, they will see the outgoing mail in the clip and take it with them.
The outgoing mail clip on the stainless MailCase will hold a handful of letters or invitations. It is big enough to hold a Netflix DVD, but would not fit a 9" X 12 " flat envelope.
According to USPS regulations, it is not possible to lock outgoing mail on a curbside residential mailbox. For more information about locked outgoing mail visit our FAQ page under the heading "SECURITY."
MailCase Dimensions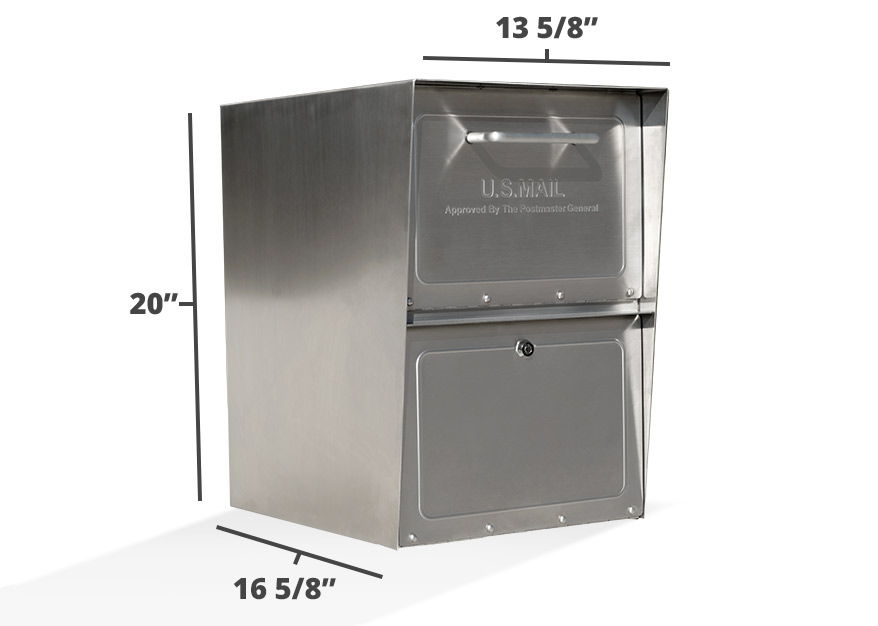 Height: 20"
Width: 13 ⅝"
Depth: The MailCase is 16 ⅝" deep at the bottom, and 18 ⅝" deep at the top (the top has a 2" overhang on the front).
The shipping weight of the MailCase is 46 lbs.
Replaceable Front Components
The top door, bottom door, Pry Shield, lock, and latch can all be replaced if these components are damaged in an attack on your mailbox.
MailCase Guarantee / Warranty
MailCase has a 30 day money back guarantee.  If you are unsatisfied with the MailCase for any reason, just contact us within 30 days for a return shipping address and send it back to us.  We will refund 100% of the product cost. MailCase does not refund shipping or return shipping expenses.
MailCase backs our products with a Limited Lifetime Warranty.  This warranty covers the original owner against manufacturing defects and any failure of moving or welded parts under normal use.  The warranty does not cover deliberate or accidental damage of the MailCase including attempted break-ins or vandalism.  The warranty also does not cover finishes or corrosion.  
Shipping Time and Other Shipping Info
Orders are shipped nationwide from our warehouse in Salt Lake City, UT by FedEx Ground.  Orders placed before 1:00 pm Mountain Standard time M-F will typically leave our warehouse the same day.  Orders received after 1:00 pm will leave our warehouse the next business day. Orders received on weekends or major holidays will go out the next business day.
FedEx Ground typically has the following shipping times:
West Coast and Mountain West:  2 business days

Midwest and Texas:  3 business days

Further East, states like Ohio and Kentucky:  4 business days

East Coast:  5 business days
We get discounted shipping rates from FedEx Ground and we pass these savings directly on to you. How much the shipping will cost to your address depends on several factors:
Distance from our Salt Lake City location to your shipping address
If your address is a residential address or business address
How far away your address is from UPS or FedEx hub
See the following table for estimates of shipping costs. You'll be able to see the exact shipping cost to your address during checkout after you enter your address but before you are asked to pay.
Mailbox Only:
West Coast: $30 – $44
Mountain States: $28 – $42
Midwest and Texas (West of the Mississippi River): $34 – $44
Midwest and South (East of Mississippi River): $36 – $47
Eastern States: $42 -$54
Mailbox & Post (sent as two parcels):
West Coast: $40 – $55
Mountain States: $38 – $53
Midwest and Texas (West of the Mississippi River): $51 – $64
Midwest and South (East of Mississippi River): $53 – $72
Eastern States: $62 -$83
Installation
The MailCase mailbox and MailCase posts are sold separately.
The MailCase can be installed in the following ways:
On a MailCase brand in-ground or surface-mount post

On your own wood or metal post (will require you to build a platform to which you can bolt the MailCase.

In a brick, stone, or stucco column (typically built by a mason).
The MailCase has 4 mounting holes in the bottom.  The MailCase itself does not come with mounting hardware, but if you buy a MailCase plus Post Combo the mounting hardware comes with the post. If you are installing the MailCase plus post combo, visit our Installation page for additional instruction.
If you buy the stainless steel MailCase plus post combo, the post in the combo is also made from 304 stainless steel.
The in-ground post is 47" long and is designed to be mounted in a hole dug in the ground and filled with concrete.  The surface-mount post is 28" long and is designed to be mounted on a concrete surface using mounting bolts. MailCase posts are heavy and strong, made from 12 gauge stainless steel and the mounting flange (the platform which holds the mailbox) made from 1/4″ stainless steel.   The sides of the post are 4" X 4".
Visit our FAQ page to learn more. Under the section called "INSTALLATION" we cover numerous FAQs about installation including:
Installation Instructions for MailCase and in-ground or surface-mount post combo using a MailCase brand post
How to mount the MailCase to your own wood or steel post if you don't buy MailCase brand post
Installation in brick, stone, or stucco
Mounting more than one MailCase on a single post
Mounting the MailCase to a wall
Yes, we sell a 2 place spreader bar that allows 2 mailboxes to be mounted on a single post, and a 3 place spreader bar that allows 3 mailboxes to be mounted on a single post.
The spreader bars can be found on our Post and Parts page.
Frequently Asked Questions (FAQ)
Customers who contact us have a lot of the same questions about the MailCase. We developed a comprehensive Frequently Asked Questions Page. If you can't find the answer to your question there, you are welcome to contact us.