Protect Your Identity
Secure your mail & personal identity with MailCase
About Identity Theft
According to the Identity Theft Resource Center the average victim of ID Theft spends 231 hours and $1,884 dollars out of pocket trying to clean up their credit. Some ID theft victims are still working on cleaning up their credit years after the initial theft. Most identity theft victims will spend the rest of their lives looking over their shoulder trying to keep their credit clean.
Employers, insurance companies, and lenders use your credit to make decisions about you. How much will your car insurance increase because your credit has been ruined by an ID Thief? What if mortgage rates drop and you are unable to take advantage of a home refinance because of ruined credit? At MailCase, we have calculated the minimum cost to you is well over $20,000 in lost savings because of ruined credit.
Even with the large security breaches we hear about in the media, having your mail stolen is by far the easiest way for criminals to get your information. All of this critical personal information is bundled together in your mailbox right there in neat little envelopes just asking to be taken in the blink of an eye.
Fact: Ten million Americans have their identity stolen every year. For most criminals, it is the perfect crime. Why?
Stealing an identity is an easy crime to commit compared with other types of crimes
Such theft requires very little interaction with others, so there is very little chance of the identity thief being caught
Jail time for identity thieves who are caught is usually lower than for more violent criminals like armed robbers
The potential payoff for for the criminal is usually thousands of dollars for very little effort and very little risk of being caught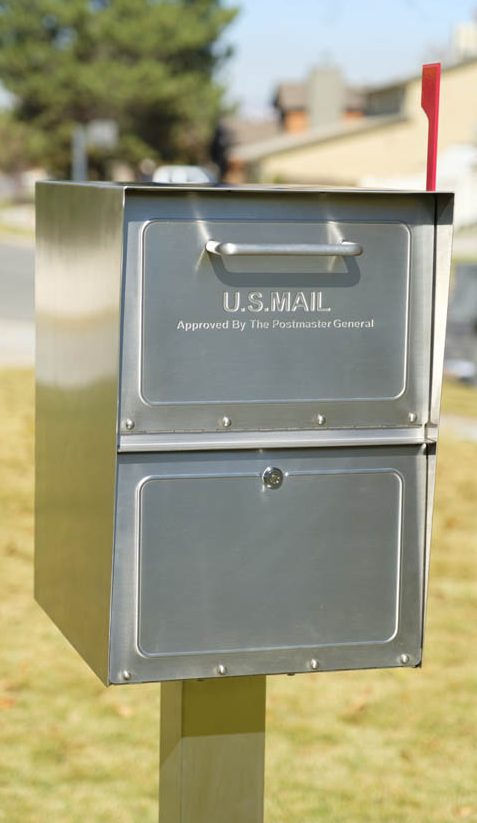 Approved by the Postmaster General
The US Postal Service requires that approved curbside locking mailboxes pass a strict program consisting of twelve separate tests.  MailCase has passed all of these tests. These tests include:
Testing the mailbox for normal operation at temperature extremes
Abrasion tests for the durability of the exterior finish coating
Salt spray tests to test for corrosion resistance
Impact tests to prove the strength of the mailbox
The process of getting locking mailbox designs approved by the US Postmaster General is difficult, expensive, and time-consuming. Federal law requires two things:
Every curbside locking mailbox must be approved by the U.S. Postmaster General
Every curbside locking mailbox must have written on the front "US MAIL Approved by the Postmaster General"
Because of the difficulty of becoming USPS-approved, many of our competitors choose not to complete this process. MailCase takes pride in being Approved by the Postmaster General.